News
Volunteer and Donor Gary.
November 28, 2017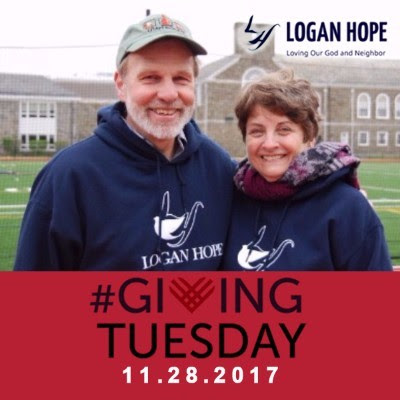 My name is Gary. I'm considered to be something of a handyman during my weekly visits to LOGAN Hope although my primary objective is simply showing up with the intention of being helpful. Based on my background of growing up in the county, I am probably an unlikely candidate to be associated with the school as a volunteer and contributor. In spite of living in the Philadelphia suburbs for more than 40 years during my career in the research/development and regulatory departments of a local pharmaceutical company, I remain a country boy at heart and am still somewhat out of my comfort zone in urban settings like the Logan section of the city.
Although I've known about LOGAN Hope since its founding in 2002, there was a transformational encounter for me during a breakfast fundraiser at our church in March 2012 while listening to some of the newest teachers speak about their roles at the school. I was impressed by their willingness to forego the prospects of higher paying positions and inspired by their passion for teaching and doing kingdom work by offering hope and a future to children who otherwise would likely have limited opportunities for succeeding in school and life. Shortly afterwards, my wife and I began to support the school financially after becoming aware of a severe monetary shortfall. During my first visit to the school in June 2012, the green Astroturf on the lawn left me with a vivid impression that LOGAN Hope was an oasis in a neighborhood that otherwise consisted of a vast expanse of concrete and asphalt. I also recognized that the school represented an oasis for establishing the academic and spiritual foundations of the students, one day at a time and one educational brick at a time. Since the fall of 2012 for my wife or 2013 for me, we have volunteered at LOGAN Hope on Wednesdays during the school year.
Based on my association with LOGAN Hope during the past 5 years, I am aware that each school day for the students and teachers is not filled with just the joy of learning and praise songs. Although I often hear laughter and know that the school provides an environment of safety and security for the students, there also exist very powerful undercurrents of emotional sensitivities and scars due to less than optimal family dynamics/finances and the impact of prejudice, life-threatening illnesses, deaths of a parent or grandparent and ongoing evidence of evil, violence and gunfire in their neighborhoods. I've become aware of frustrations and disappointments of the staff due to limitations associated with funding/resources/space. However, despite all these limitations, LOGAN Hope is testament to the power of sacrificial love provided by administrators, teachers and support staff who are agents of transformation and whose responsibilities extend beyond academic instruction, also serving as caretakers, role models, mentors and comforters. From my perspective, every member of the staff performs heroic service each day with his or her ongoing commitment of instructing the minds and touching the hearts of the students. Although perhaps not apparent to many outside the LOGAN Hope community, each staff member is a priceless treasure, and each student (including any who may be considered underprivileged) is like an unpolished gem in the process of being refined in preparation for high school, college, a career and parenthood.
In spite of obvious differences between my country upbringing and the urban culture of Logan, there are themes that are common in my story and the mission of Logan Hope. Due to growing up as a 'country hick' and other aspects of my family background, I was no doubt regarded as underprivileged too. However, I was the beneficiary of sharing life with family members, neighbors and teachers (especially Mrs. Shepstone in 5th grade) who offered encouragement and who modeled a commitment to excellence, problem solving (inside and outside the classroom), generosity and sacrificial love. During my weekly visits to LOGAN Hope, I have witnessed these same attributes demonstrated by the administrators, teachers, staff and consultants who reinforce the five core values of humility, thankfulness, grit, neighborly love and integrity. I have also been fortunate in interacting with many of the students and learning about their aspirations as well as disruptions in their lives which could potentially derail their educational, social and spiritual development. For me, getting to know the students and staff up close and personal is to love them. Although there are certainly many needs at the school, perhaps LOGAN Hope should be known not only by what it doesn't have but also by what it DOES have as I have been richly blessed by the sensitive hearts and by the kind words and notes of appreciation from the students and staff. For me, partnering with LOGAN Hope by contributing my time and financial support to the school is a meaningful opportunity to serve in my retirement years, with the bonus of serving alongside individuals who are passionate and reflect the love of Jesus. During the past 5 years, I've shared joys and sorrows and have been inspired by administrators and teachers who should be acknowledged not only to the extent of what they give to the students and their families but also by how much they are willing to give up in their own lives.
I pray nearly every day for the students and staff of LOGAN Hope. I pray that all of the unfortunate circumstances experienced by the students will one day be redeemed for them and future generations of their families. I pray for the ongoing financial needs of the school (including the possibility of higher salaries for the staff), for the maintenance and necessary repairs of the two current buildings. I pray too that others will join in furthering the ministry of LOGAN Hope by contributing their time and monetary gifts and that all those associated with the school as students and staff (past and present) will continue to be the recipient of God's grace which is still unfolding.

- Gary, LOGAN Hope Volunteer and Supporter